Cape Town Etc
Posted on Fri February 14, 2020 in
Press
.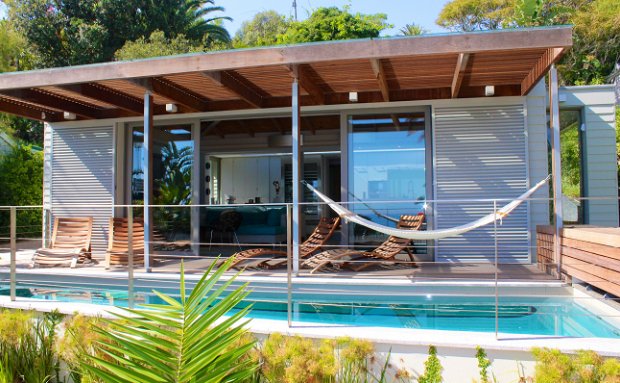 "Alice opened the door and found that it led into a small passage." And that passage let straight to paradise, if there ever was one in Cape Town, then Bungalow 52 in Clifton is it.
Around the time Lewis Carroll wrote Alice's Adventures in Wonderlandover in Great Britain, something more tangible – but equally as magical – was brewing right here at the tip of Africa. Clifton Beach was becoming a wonderland of its own because of its breathtaking beauty and positioning. History tells us that a shoemaker took advantage of the route to fix traders' shoes during their arduous journey from the coast to the interior. Over the years, holidaymakers slowly descended on the coast to secure homes, and later moved here permanently, enchanted by its beauty and promise.
Clifton 4th beach.
Like Alice who followed the white rabbit down the hole, you'd be forgiven for wondering where the paths may lead from the top of Victoria Road. But once you reach the Clifton 4th Beach Promenade, you begin to realise why so many before us fell in love with this piece of the earth.
The absence of wind is a game-changer for anyone who has ever swallowed beach sand or spoiled an ice cream. We could do with less wind in Cape Town and Clifton is blessed to be hugged tighter by its coastline. There's a stillness that allows the mind and eyes to wander and wonder at the beauty before you. But the white rabbit hasn't stopped moving, there was more walking to do – to Bungalow 52 – a place best described as where the soul meets the sea, and where the saying "life's a beach" could easily have been referring to.
Bungalow 52 is a place where the soul meets the sea.
It is quite simply one of the best places to spend time with the people you love. Bungalow 52 is the beach villa straight out of Wonderland, especially when the sun begins to set or rise, or anytime in between. I counted exactly 17 steps to Clifton 4th beach from the front door. In 17 steps you could be on a world-class beach, with the mountain behind you and at least 7 shades of blue before you.
The most amount of stress encountered over the weekend was deciding whether to stay in the villa, with every creature comfort you could possibly indulge in, or walk 17 steps to the beach. Tough life, I know!
The lounge, dining and kitchen area are designed in an open flow plan that sweep out onto the balcony with unmatchable views of Clifton. To say that this is prime positioning is an understatement. From here you can laze on the deck chairs, swim in the pool or sunbathe on a lounger – choices, choices!
The lounge, kitchen and dining area are open plan.
It even has a surfboard and a Technics 1200 with Rodriguez's Cold Fact album ready for you to hit play. The kids have plenty to do, from swimming in the pool to somersaulting in the underground entertainment room, fully kitted out with a TV, bathroom, kitchenette and unlimited wifi. Best of all is the view of the pool from the entertainment room, no detail is too much and everything is exquisite.
The entertainment room shares a view of the pool.
 
Lest we forget, this is Wonderland after all. The Egyptian cotton on king size beds was too irresistible to not stretch out like royalty. The bungalow sleeps 6 comfortably and draws inspiration from the island paradises of St Barts and the Maldives, with playful colours, imaginative décor and three levels in which to space out on.
King size beds was too irresistible to not stretch on out like royalty.
Wonderland is all about unconventional spaces and unthinkable experiences, and this is how to best describe Bungalow 52. The artwork, the ornaments and the pops of imaginative decor pieces scattered around the house are so unusual and enchanting, you can't help but talk about it. A multi-eyed green monster became symbolic of our very unusual stay in Clifton. It was child-like but also all-seeing, it was intense yet playful – much like our time there.
Quirky ornaments add life to the bungalow.
"It's no use going back to yesterday because I was a different person then," Alice said to the caterpillar – and me to myself – while letting the ultra-soothing rain shower heal me from the outside in. Attention to detail is what makes a stay unforgettable, and here they have considered your every pleasure. Le Creuset cookware, custom-designed plates, platters and other crockery – mattresses that feel like your soul is being hugged and showers that do that too. At every turn there is a wow element, and how many places have you stayed at that can boast this?
The green-eyed monster.
Bungalow 52 taps into your heart and leaves an impression that is impossible to forget. Knowing that such a place exists is life-changing. Realising that it can't be yours forever is heartbreaking, but you're grateful for the experience nevertheless.
"We're all mad here," the Cheshire Cat said to Alice. It's relevant, because here in the heart of Clifton, where the wind seldom blows and the beach is never imperfect, you'll be forgiven for thinking you've gone crazy. That this can't be real. But here, at the "love shack" as it is aptly nicknamed, bonds are created, emotions are heightened and the joy of life is amplified.
"Yes, you're mad, bonkers, off the top of your head," said Alice, "…but…I'll tell you a secret. All the best people are."
Contact: +27 76 198 0234
Email: enquiries@wonderlandvillas.com
Website: Bungalow52.co.za 
Article written by Nidha Narrandes

 
 See the article here.